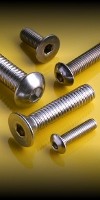 Europe's best source of UNC and UNF threaded fasteners.
As a major UK based importer of Unified threaded components, Westfield Fasteners offers UNF and UNC bolts, screws and nuts in various materials, including stainless steel, SAE grade 5 and SAE grade 8. Our UNC and UNF ranges complement our extensive stock of ISO metric fasteners.
Westfield Fasteners has built an outstanding reputation servicing the Automotive, Aerospace, Pharmaceutical, and Petroleum industrial sectors across Europe, and offers solutions for companies involved in production or R & D.
Explore our inventory by visiting our web-shop
Web-shop